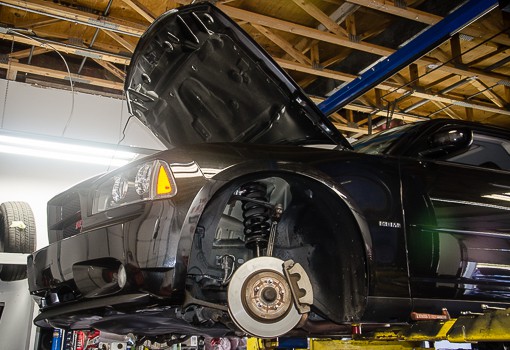 Now is the time to get your St. Louis brakes fixed!
For a limited time only, get new front brakes or rear brakes and rotors for just $249.00 per axle*! This is a great deal and it won't last for long. You'd typically pay $325.00 or more for this from any of the big St. Louis auto brake competitors. Time to save some money, drive with more confidence and safety, and put your hard-earned money towards Christmas presents.
Our St. Louis brakes special starts on Monday, December 3rd and ending on December 20th so don't delay.  If you're noticing that your car or SUV isn't stopping like it used to, don't chance your family's safety by driving on bad brakes. With more snow, ice, and rain on the way, it's time to quit putting off brake repairs and chancing an accident. Book your appointment with Cyclone Car Care, your St. Louis brake, shock, and auto specialists, today!
*For most St. Louis cars. See Cyclone Car Care for more details and pricing. Some exclusions may apply. See dealer for details.
Here are some important and interesting facts about auto brakes:
There's no exact answer for this, but, on average, most St. Louis drivers can expect to get between 25,000 and 65,000 maximum, from their new brake pads.
On average, brake pads need to be replaced about every 50,000 miles.
There are basically two types of brake pads: ceramic and metallic. Of the two types, ceramic brakes can tolerate heat much more readily than metallic brakes, produce less dust, and they produce much less noise.
Ceramic auto brakes started to replace metallic brakes in the 1980s.
Anti-lock brakes were created 1929 and were first used in the aviation industry only.
Mercedes Benz is credited with creating the first anti-locking brakes in 1978.
ABS brakes are now required in all cars. Europe first required them in 2004 for all cars sold. The US didn't require them in all new cars sold until 2013.
Braking distance refers to the distance a vehicle will travel from the point when its brakes are fully applied to when it comes to a complete stop.