Categories:
The sudden drop in St. Louis temperatures can make starting your St. Louis car, truck, or van, much more difficult. Cold temperatures tax your auto battery and alternator.
It's important to make sure your car is ready for winter. Cyclone Car Care, your trusted and trained St. Louis auto mechanics, are ready to help you winterize your car.
In addition to making sure your battery is in good running order, it's a great idea to also check your antifreeze, radiator, tires, windshield wipers and more. Old man winter can make it tough to start your ride.
Here are some of the things we look for when we're preparing your car for winter:
Snow Tires. Snow tires are designed especially for the rigors and demands of winter driving.
Inspect your hoses and belts. Your hoses and belts take a beating all year, but especially during winter.
Check the antifreeze. The antifreeze is the lifeblood of your heating and cooling system.
Check tire pressure. For each 10 degrees drop in temperature, your tires lose approximately a pound of air.
Check your battery. Cold weather taxes your battery. Make sure your battery will start your car quickly.
Also, consider preparing a winter driving emergency kit. Some of the things you might want to keep in your car include the following:
A warm blanket.
A first aid kit.
An ice scraper with a snow brush.
Flares, reflectors or a flashlight.
Rock salt, kitty litter, sand or some other substance for traction.
A snow shovel.
Jumper cables.
Extra winter clothing like boots or gloves.
Keep safe this winter and make sure your ride is ready to power through winter. Cyclone Car Care can help you prepare to keep your car, van, truck or fleet, on the road all winter.
Categories: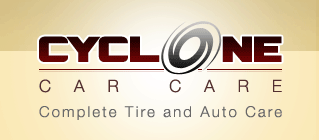 Five Ways To Save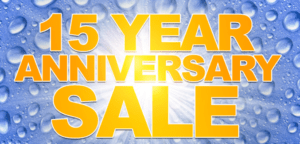 During Cyclone Car Care's 15th Anniversary Sale!
Cyclone Car Care has been in the business of fixing and maintaining you and your family's vehicles for 15 years now! As a way of saying thank you for the business over the years, we want to offer our customers five great, money-saving offers!
Buy any shocks and struts and get free labor, plus $15 off your alignment.
Get $15 off a coolant flush when you purchase radiator hoses.
Buy any two drive train services (front or rear diff service and/or transmission service), get $15 0ff.
For only $27.99, get an oil change, set of wiper blades and a 36-point winter check-up.
Buy four tires and get $15 off the alignment.
You won't find this deal cheaper anywhere else! Make your appointment today at 314-843-3800!